KOUNOTORI4 is the fourth H-II Transfer Vehicle (HTV) destined for launch from the Japanese Space Agency JAXA to the International Space Station. It is an unmanned resupply vessel, but unlike the Progress or ATV, it can carry International Standard Payload Racks to the station – only the SpaceX Dragon provides an alternative for that function. Also, plans for the HTV are to make it both reusable like the Dragon, and eventually suited to carry a crew of three from the station by 2022. So this spacecraft is going to be a part of the future of manned spaceflight.
Here it is being fitted to its fairing: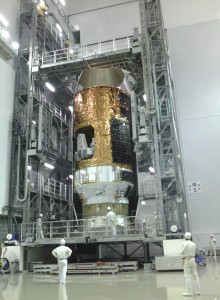 And here the payload fairing is being moved to the VAB where it will be placed at the top of the H-IIB launcher. There's something unaccountably amusing about this photo: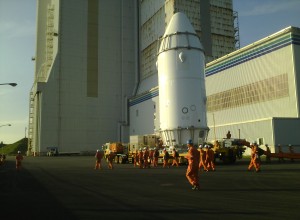 The launch is currently scheduled for August 4th from the Tanegashima Space Center. The H-IIB launcher is a heavy lifter from Mitsubishi with a launch mass of 531 tons and it can manage a 19,000 kg payload to Low Earth Orbit. The HTV is 16,500 kg.
On its return, the Kounotori will be loaded with waste, deorbited, and disintegrate on reentry over the Pacific Ocean. The reusable version is scheduled for 2018.
Incidentally, the name "kou no tori" (こうのとり) means "white stork", which is a bringer of good luck.