Archive for the 'Uncategorized' Category
I was pleasantly surprised by the syfy channel movie called American Warships shown on Saturday 19th May. Syfy channel makes it a regular practice to show their low budget knock-offs when some big-budget Hollywood extravaganza is appearing. Recent  examples are their versions of Thor, Battle for Los Angeles and War of the Worlds.
American Warships is a knockoff of Battleship (read my previous review) without being constrained by the board-game. It stars Mario Van Peebles and Carl Weathers, who both give credible if somewhat stilted performances – what can you expect from military types anyway. The director is someone named, believe or not, Thunder Levin who had last directed a movie in 2008 called Mutant Vampire Zombies from the 'Hood' – no, I didn't make that up either!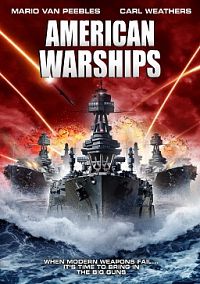 The premise is that mysterious stealth ships have taken out the USS Enterprise carrier group with EMP weapons that cripple all the electronics and sophisticated missile technology that destroy the ships and nearby airbases in South Korea. The North Koreans and Chinese are suspected and a nuclear war is imminent. Of course, things are not so simple (spoiler alert……). It is really aliens who are trying to create a situation whereby humanity destroys itself and save them the trouble.
Ray Bradbury passed away yesterday, June 5th 2012, at the age of 91. He was a widely influential author of science fiction and fantasy and among the last writers from the heyday of science fiction in the 1950s. He is best known for Fahrenheit 451, the dystopian novel that seems ever more prescient with every year.
I have not read much Ray Bradbury, mainly because, as he himself noted, Fahrenheit 451 was his only science fiction novel. According to Bradbury, the Martian Chronicles and other similar works should be classified as fantasy, since they cannot happen, and I tend to agree with him. He thought of himself as a myth-maker and that was his entire aim, because "myths have staying power" and he explicitly wanted to live forever through his work.
One consistent characteristic of Ray Bradbury endears him to me, though, and that's his ever-present skepticism about technology. Unlike many science fiction writers, he did not assume that life in a world with advanced technology would be a wonderful thing. On explaining why he opposed turning Fahrenheit 451  into an e-book (which would have been highly ironic given the book's premise), he said, "We have too many cellphones. We've got too many internets. We have got to get rid of those machines. We have too many machines now." I don't agree with him, but I sometimes think we're plunging into technology without really thinking about what it's doing to us, and whether it is really benefiting us. It's like using a hammer without being aware that you might accidentally crush your finger while holding the nail. Yes, the technology is useful, but no one ever mentions the drawbacks.
I was not too hopeful when my daughter convinced me to go watch Battleship during a recent visit to London. The action movie is based on the board game from Hasbro and is directed by Peter Berg who did a good job with the interesting Will Smith superhero Hancock. The real star of Battleship are the special effects and action sequences which are sufficiently exciting to warrant a watch, especially since there are few sci-fi movies involving aliens space-crafts duke-ing it out on the oceans with our naval warships.
The main actor is Taylor Kitsch who had just recently starred in the mega-bomb John Carter that lost Disney $200M.  He just seems awkward in the role of a misfit with high potential who is  made to join the navy by his elder brother played by True Blood star Alexander Skarsgard ( he gives a great performance) because it was the only option  left.  The gorgeous Brooklyn Decker is Taylor's love interest and plays the daughter of Admiral Liam Neeson in a uncharacteristically dull performance. I'm not too sure why Rihanna is making her film debut in a minor role with lackluster dialog.